24 Jun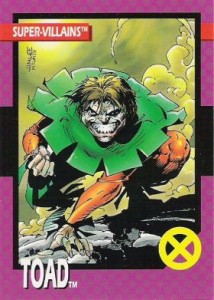 Subject: Toad
Real Name: Mortimer Toynbee
Height: 5'8″ Weight: 260 lbs
Group Affiliation: Brotherhood of Evil Mutants
First Appearance: Excalibur Special Edition #1, September 1987

Power Ratings:
Energy Projection: 1/7
Mental Powers: 1/7
Strength: 2/7
Fighting Ability: 1/7
Intelligence: 4/7
Minor confession: when the first X-Men movie came out (in 2000), I'm pretty sure I never knew of the character named Toad. Either I thought they made up a mutant for Ray Park to play, or it was a super obscure character they were gonna bring to the forefront (as they did ad nauseum in the subsequent movies). In hindsight I can't really say Toad was really obscure, so that was a bad on my part.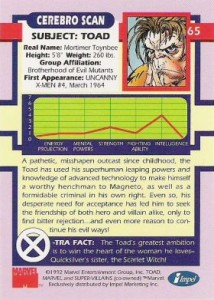 To my credit, Toad didn't have much of a place in 90's mutant lore, being a frog-like henchmen to 1960's-style Magneto who didn't have much in the way of formidable powers (his Power Ratings give him a 4/7 in Intelligence, but I think this was a retcon since his original appearances portrayed him as no more than a cross between Igor and Gollum.
Lee's drawing can't do much to hide how much of a throwback villain Toad is, looking like a medieval peasant with a bowl cut. The side-B portrait gives him a nice froglike face, though.
Incidentally, Toad's X-Tra Fact refers to his crush on Magneto's daughter the Scarlet Witch, with whom he had not had contact since she and Quicksilver defected to the good guys and joined the Avengers in the late 60's. Throwback indeed!
tags
: