1 Jun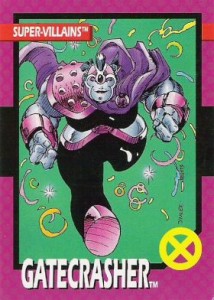 Subject: Gatecrasher
Real Name: Gatecrasher
Height: 8'3″ Weight: 1111lbs.
Group Affiliation: Technet
First AMERICAN Appearance: Excalibur Special Edition #1, 1988
Power Ratings:
Energy Projection: 1/7
Mental Powers: 2/7
Strength: 3/7
Fighting Ability: 3/7
Intelligence: 2/7
I'd been chastised in the past for giving Excalibur characters the short end of the stick, and really if I knew them better I'd have more to say. In fact when going through the convoluted, self-serious stories of the late 80's X-Books the kooky and otherwise self-contained Excalibur stories (at least until they got more integrated into the mutant storyline in the early 90's) were sometimes welcome respites.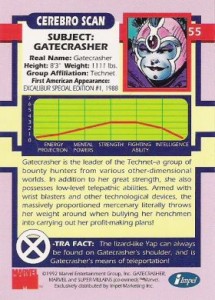 The thing that really makes the Excalibur characters (especially the villains) tough to read about is not only were they not really part of the mutant books, many of them didn't even last very long. Gatecrasher and Technet were leftovers from Claremont's Marvel UK Captain Britain books that were in their own little island, so much so that Gatecrasher's card refers only to her first American appearance in 1988, when she had debuted back in 1985.
You can tell by these cards that Lee couldn't care less about the character; the art is sloppy, with Liefeld-style crosshatching on her stump of a foot. Likewise, the X-Tra Fact refers to an ever-present lizard-like companion on Gatecrasher's shoulder, and yet the art does not depict this. And finally, for an eight-foot-three, 1111-pound big bertha whose bio refers to her "great strength," I'm kind of disappointed that she'd only have a 3/7 Strength power rating.