3 Aug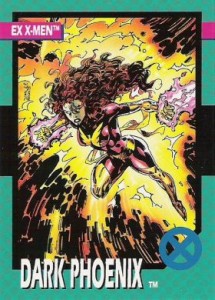 Subject: Dark Phoenix
Real Name: Unrevealed
Height: 5'6″ Weight: 110 lbs.
First Appearance: Uncanny X-Men #101, October 1976

Power Ratings:
Energy Projection: 7/7
Mental Powers: 7/7
Strength: 7/7
Fighting Ability: 4/7
Intelligence: 3/7
This whole Ex-X-Men tag is so far proving to be a huge disappointment; first we get a character that wasn't technically ever a member of the X-Men, and today we get a character that was technically a super villain! I'm pretty sure as soon as Phoenix turned into Dark Phoenix (as a result of the Hellfire Club and Mastermind's prodding), Jean/Dark Phoenix no longer regarded herself a team member (ehhh, I guess if you want to look at it that way, she stopped being an X-Man, and therefore was an ex-X-Man.)
The Phoenix/Dark Phoenix saga continues to be regarded as one of the greatest X-Men stories ever told, and certainly the most famous one. It's always struck me as ironic because X-Men always drew critical acclaim for its humanistic message and social criticism, and yet the Phoenix saga was pretty straight up space opera popcorn. Very well written and drawn popcorn to be sure, and certainly notable for portraying a powerful female character, but I can't say I don't respect the pressure the X-Men movie creators were under to fit the Phoenix saga within the more grounded movie universe.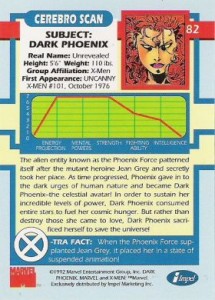 I am in fact one of the few defenders of X-Men 3, specifically its handling of the Phoenix Saga. I have friends who will absolutely not forgive the exclusion of the Phoenix that ate an entire sun, but seriously, in the movie she disintegrates dozens of people without (literally) blinking an eye; that's plenty fucking powerful, and plausible enough without needing to bring up the idea of a cosmic entity that possessed her.
Listen, I'd've still loved a Bryan Singer version of X-Men 3 (I hope he accepts he and the franchise's eternal bond now), but for the guy who conceived an X-Men: First Class where the Professor X and Mystique were childhood loves, the X-Men were government agents, and Alex Summers was older than Scott, I doubt Singer would've been as faithful to the Phoenix Saga himself.
Anyway, I digress again. The art is fantastic here, with that crackling Jim Lee energy and strong details and shadows. I don't find it as powerful as his original card for Jean Grey, but it comes across between that and his competent card for Rachel Summers, the (at the time) new Phoenix.
Dark Phoenix's Power Ratings are kind of weird, in that many of us would assume that she of all people would wield all 7/7 ratings, but instead the card cares to distinguish her merely competent Fighting Ability (I don't think you need to know how to fight when you can easily disintegrate your enemies), and Intelligence. Instead, our one and only all-7/7 character is still coming up.