8 Jul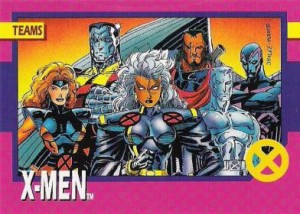 Subject: X-Men (Gold Strike Force)
Roster: Storm (Team Leader), Jean Grey, Colossus, Iceman, Bishop, Archangel
First Appearance: Uncanny X-Men #1, September 1963
And now we move on from the Heroes and Villains to the Team cards, starting with X-Men's Gold Strike Force. After the various X-Members were shuffled around in the 90's relaunches, wherein the original founding members of X-Men, having since formed X-Factor, returned to their original team, there was a need to instead split the family up into two X-Men: gold and blue strike forces (it wasn't until I did these blogs did I realized the gold and blue designations were representative of the original team colors).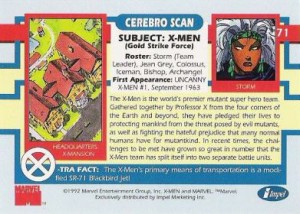 The term strike force reflected the era's more proactively aggressive mutants, though I can't remember the teams actually jumping into action any more than they had been before (at the very least trouble had no difficulty finding them). The Gold Team depicted here was the team featured in Uncanny X-Men, at the time illustrated by Whilce Portacio.
I think it was a combination of less impressive art, the lack of Wolverine, and, ashamedly, the girl team leader (splitting into two teams made it easier to reconcile Storm and Cyclops' jostling for leadership), but I just wasn't as into the Golds as much as the Blues (even Gold made it seem more feminine). Luckily a lack of editorial assertiveness meant the two teams appeared in their counterparts' books frequently, which was good because I always liked Lee's renditions of Jean, Ororo, and Piotr.