17 Aug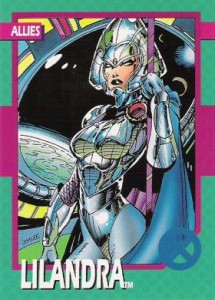 Subject: Lilandra
Real Name: Lilandra Neramani
Height: 5'11" Weight: 110 lbs.
First Appearance: Uncanny X-Men #97, February 1976

Power Ratings:
Energy Projection: 1/7
Mental Powers: 2/7
Strength: 2/7
Fighting Ability: 1/7
Intelligence: 3/7
For a stuffy old disabled guy, Professor X sure gets himself a lot of ass. Gabrielle Haller, Moira MacTaggart, and of course Ms. Shi'ar Empress here, Lilandra, whom I guess is considered his one true love (convenient that they hardly ever see each other).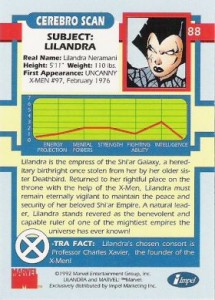 Lilandra's introduction was another one of those "I think the rest of the team is dead, so let's not even bother looking for them and just go off on an interplanetary adventure" moments, which is weird because Professor X, the world's most powerful telepath, with access to Cerebro, didn't seem to try too hard to indeed confirm that his beloved students were definitely dead. So he went off to hook up with a mysterious alien chick, without bothering to notify his students' next of kin.
Anyway, Lilandra looks pretty hot in her portrait; sexy pose, with that classic Jim Lee chrome accents that he does so well (and Liefeld not so much). The pose might be a little too sultry and not enough regality, but who am I to complain.
Lilandra gets a 2/7 Mental Powers rating that looks like simply a consequence of her bond with Charles. I don't recall her ever manifesting psychic powers otherwise. Also, am I mistaken, but isn't she more formidable of a warrior than a 1/7 Fighting Ability rating would lead one to believe? She certainly wears armor that would befit someone who wouldn't shy away from combat.