18 Apr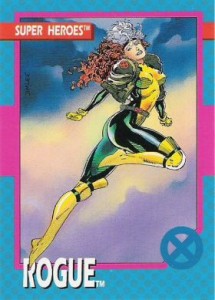 Subject: Rogue
Real Name: Unrevealed
Height: 5'8″ Weight: 120 lbs.
Group Affiliation: X-Men (Blue Strike Force)
First Appearance: Avengers Annual #10, 1981
Power Ratings:
Energy Projection: 3/7
Mental Powers: 1/7
Strength: 4/7
Fighting Ability: 5/7
Intelligence: 1/7
One of the most popular 90's X-Men gets #36 in the series? I hope Rogue's got some Kleenex in the pockets of that big jacket of hers. Her character remains one of the most quintissential of the mutant plight (a power that both enables and dibilitates herself), so much so that she becomes a central character in the X-Men movies, and the deck's stacked in her favor as far as being a crush object (great hair, southern accent), despite disaster striking in the event of physical contact.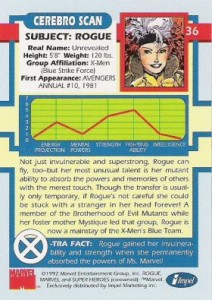 As a kid entering the Marvel Universe in the early 90's I had no idea who Ms. Marvel was, so despite the incident of Rogue (who was originally a villain, who did her foster mother, Mystique's, bidding) getting her powers of flight, strength, and invulnerability by catastrophically absorbing it off Ms. Marvel, being retold ad nauseum, I still treated it as ancient history; a past where Rogue was bad, wasn't strong, and couldn't fly, was all just way too weird for me to comprehend.
I always liked Lee's portrayals of Rogue, whom, like many of the X-women, Lee seemed to really enjoy drawing (the way he draws women, it's no wonder why). Where Lee drew Jean Grey with intensity and concern, Psylocke with raw sex appeal, and Jubilee with naive attitude, Rogue always looked empathetic yet warm, with big round eyes. Sadly Lee's portrayal of Rogue on this card is a little generic and flat, (and her legs are HUGE compared to her arms), and with little emphasis on her face we only see a broad glimpse of her personality.
Her Power Ratings are good enough although I don't know if I'd count her absorption powers as "Energy Projection." Also, tangentially, I always found references to Rogue having invulnerability weird; sure, she was super-strong, but I seem to recall her getting licked on more than one occasion (including a memorable incident with a boysenberry pie).
tags
: