30 Mar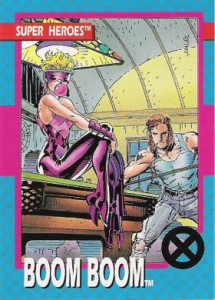 Subject: Boom Boom
Real Name: Tabitha Smith
Height: 5'5″ Weight: 105 lbs.
Group Affiliation: X-Force
First Appearance: Secret Wars II #5, November 1985
Power Ratings:
Energy Projection: 3/7
Mental Powers: 2/7
Strength: 2/7
Fighting Ability: 3/7
Intelligence: 2/7
It's really easy to regard Boom-Boom as Rob Liefeld's Jubilee: she's more airheaded, her powers are more destructive, and her clothes are more outrageous. So it's funny to realize that not only did Boom Boom (you know what, I can't keep calling her that… let's dignify her as Tabitha, shall we?) not actually get created by Rob, her first appearance goes all the way back to the mid-80's.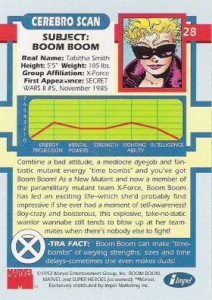 Is it creepy that there's something about Tabitha, with her Lady Gaga glasses and bubble gum, that I find oddly attractive? You just know she's up for a good time, shimmying her legginged butt on that pool table. Even when Lee draws a hyper-mulleted… Rictor (is that who that is?), and even though I think it would've been good to depict her with powers (you know, to keep her from looking like a Jubilee-class useless teammate), Tabitha's just too cool for school.
Her Power Ratings somehow give her generous 2/7 marks for Mental Powers, Strength, and Intelligence, and while I find the 3/7 Fighting Ability to be pretty generous as well, it doesn't seem as offensive.
tags
: