28 Mar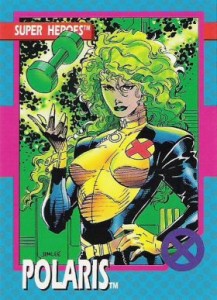 Subject: Polaris
Real Name: Lorna Dane
Height: 5'7″ Weight: 115 lbs.
Group Affiliation: X-Factor
First Appearance: Uncanny X-Men #49, October 1968

Power Ratings:
Energy Projection: 5/7
Mental Powers: 1/7
Strength: 2/7
Fighting Ability: 3/7
Intelligence: 2/7
As a kid I liked the revamped X-Factor's costumes, mainly because, at the time, they looked super-modern, as well as the right balance between coordinated and individualized, much more so than the uniforms of the other teams.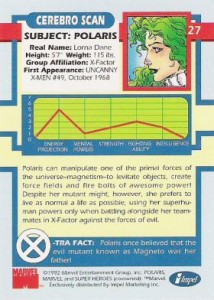 And, as is evident in her card, Polaris' costume makes it look like her boobs are bursting out of her jacket. Too bad her face looks totally mannish, and her powers make her look like a Green Lantern instead of a mini-Magneto.
Her card bio refers to her preference to "live as normal a life as possible", referring to the fact that despite first appearing in 1968, along with Havok, Lorna Dane and Alex Summers appeared very seldomly since. That said, by the time she and Havok were promoted to X-Factor, at the time a government-sanctioned team, they were definitely in the limelight, and whatever part of her just wanted to live a secluded life was out of the question, making that part of her bio outdated.
Polaris' power ratings seem appropriate enough, overall inoffensive… just like Polaris herself.
tags
: