23 Mar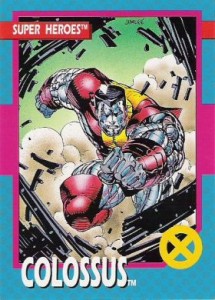 Subject: Colossus
Real Name: Peter Rasputin
Height: 6'7″ Weight: 275 lbs.
Group Affiliation: X-Men (Gold Strike Force)
First Appearance: Giant Size X-Men #1, May 1975
Power Ratings:
Energy Projection: 1/7
Mental Powers: 1/7
Strength: 6/7
Fighting Ability: 4/7
Intelligence: 2/7
Let's get this out of the way: Peter looks mentally challenged in his headshot in the back. I guess when your hero form is a hulking mass of metal, it's easy to overlook what you look like when you're not chromed out.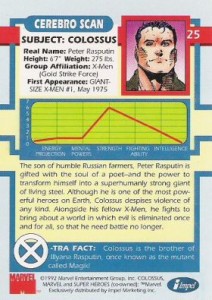 Lee gives Colossus a good sense of power and momentum in his charging-at-you pose, but portraying him crouched down obscures his silhouette, which is problematic when his chrome and ribbed body already makes him look so busy. It might've been more appropriate to pose him hoisting a massive weight. That said, I've always liked Lee's portrayals of Colossus; the man draws chrome muscles well (and his crew cut is always glinting).
Colossus' power ratings may be the most appropriate yet, with low Energy and Mental Power ranks (though seriously, the graph makes room for "0" so shouldn't it be okay for Colossus to have 0 ratings for Energy and Mental?). His 6 for Strength and 5 for Fighting Ability are also apt.
tags
: