21 Mar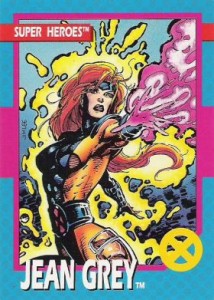 Subject: Jean Grey
Real Name: Jean Grey
Height: 5'6″ Weight: 110 lbs.
Group Affiliation: X-Men (Gold Strike Force)
First Appearance: Uncanny X-Men #1, September 1963
Power Ratings:
Energy Projection: 1/7
Mental Powers: 6/7
Strength: 2/7
Fighting Ability: 4/7
Intelligence: 3/7
I gotta admit, this was one of my favorite cards as a kid. It just looked so dramatic, with strong shadows, exaggerated but dignified pose, and you could just feel the psychic power coming off of her (as yellow and pink globs). You even got a peek at her hip armor. When most of the art on these cards seem really rushed for Jim Lee, this is one of the ones that approached the amount of polish he put at the peak of his X-days*.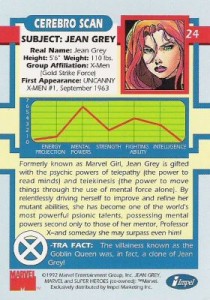 Oddly enough, Jean's headshot in the back stands out as weird, her puffy cheeks making her seem much younger than you would assume, where Lee had usually taken care to portray Jean as womanly yet mature.
I'd hesitate to give Jean high Power Ratings for Strength (she's given a 2)  and Fighting Ability (she's given a 4), though again, I guess everyone's getting a 4 anyway. She appropriately gets a 6 in Mental Powers, though again it wouldn't have been wildly inappropriate to have her and Professor X as 7's, as paragons of psionic power.
*During my first and only face to face encounter with Jim Lee (at the Spawn #200 signing at Golden Apple Comics, where Todd was joined by Jim, Rob Liefeld, and Marc Silvestri), a mere two weeks before this blog debuted, he told me that when he started illustrating the cards, the art was both polished and quick, taking him only half an hour to do. By the end of it the art was looking rushed and taking him up to two hours. He also said that he just jumped around in order based on his preference at the time. I would not be surprised if Jean was one of the first cards he drew.
tags
: