7 Mar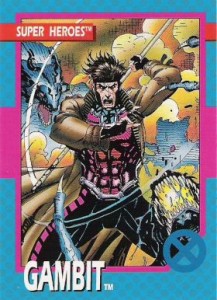 Subject: Gambit
Real Name: Unrevealed
Height: 6'2″ Weight: 180 lbs.
Group Affiliation: X-Men (Blue Strike Force)
First Appearance: Uncanny X-Men #266, August 1990
Power Ratings:
Energy Projection: 4/7
Mental Powers: 1/7
Strength: 2/7
Fighting Ability: 5/7
Intelligence: 2/7
Gambit couldn't have possibly been happy with his image on the front of this card… he looks like grandma's gumbo just made a splash in his leggings as he coolly lays the smackdown on the Brood. I bet he looked like his appropriately cool self just half a second prior, like his headshot in the back card.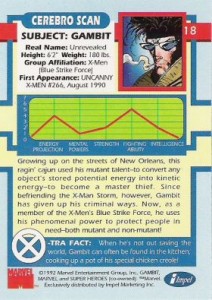 I got into X-Men during Gambit's heyday, and while in hindsight it makes total sense, I was surprised when I realized that Gambit was a very recent addition to the X-family (he appeared in Uncanny X-Men #266, August 1990). He certainly looks straight out of the 90's, but then again everyone else did at the time, regardless of when they debuted.
The information in the back of the card belies how little history there was to Gambit at the time (the X-Tra fact refers to his chicken creole-cooking skills), referring to Gambit's friendship with Storm (she was the first to meet him, but this relationship gets glossed over as soon as he meets the rest of the team). His sheer 90's popularity gets him some more interesting plotlines in the near future (his involvement in the Mutant Massacre, Bishop's accusation, his Cajun marriage, and of course his longstanding romance with Rogue), but none of it is referred to here.
tags
: