25 Feb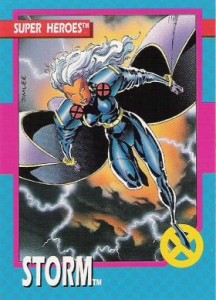 Subject: Storm
Real Name: Ororo Munroe
Height: 5'11" Weight: 127 lbs.
Group Affiliation: X-Men (Gold Strike Force)
First Appearance: Giant-Size X-Men #1, May 1975
Power Ratings:
Energy Projection: 1/7
Mental Powers: 6/7
Strength: 3/7
Fighting Ability: 4/7
Intelligence: 3/7
Seen here with shoulder pads whose size are only matched by her thighs, Storm's ability to control the forces of weather apparently means she gets a 6/7 Mental Powers rating… equal to that of Professor X. Just goes to show how vague these rating systems were, and makes me really long for the good ol' days of "Strength, Speed, Agility, Stamina, Durability, Intelligence." I guess if I really had my way I'd replace Stamina and Durability with Energy Projection (lumping psychic powers with physical energy projection) and Fighting Ability. The goal, of course, is to be able to at give each character at least one Power Rating that was somewhat intimidating.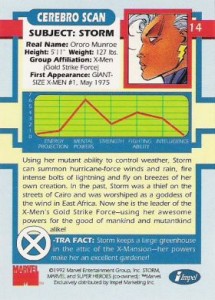 But I digress. Aside from the rating inconsistency, Storm manages to have a respectable trading card showing, with an attractive side-b profile picture and an almost poetic biography (even her X-tra fact is an actual piece of trivia, regarding her keeping a greenhouse in the X-Mansion's attic). The art unfortunately is somewhat uninspired… I would've much preferred a shot looking up at Ororo with the lightning crashing around her… the composition on this card, with us looking at eye level, even looking down, at Ororo, makes her seem intense but not particularly intimidating, which is exactly how we should feel when confronting a 5'11" black woman with a head of long luxurious white hair floating in the winds and sizzling with electricity. I don't care how turned on you are, you should also be freaked out.
tags
: