16 Feb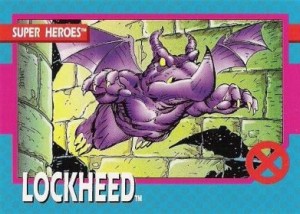 Subject: Lockheed
Real Name: Unrevealed
Height: 1′ Weight: 55 lbs.
Group Affiliation: Excalibur
First Appearance: Uncanny X-Men #166, February 1983
Energy Projection: 3/7
Mental Powers: 3/7
Strength: 1/7
Fighting Ability: 1/7
Intelligence: 2/7
Okay, this is just fucked up. Why is a non-mutant, non-human, non-SPEAKING comic relief of the most minor of X-Books, number 10 in this series? I admit I thought Lockheed was cool when I was a kid, being a pet dragon and all.
But even the card's X-Tra Fact sums it up pretty well: "Shadowcat named Lockheed after the X-Men's supersonic jet, the Blackbird, which was designed at Lockheed Aircraft." In fact, why the hell does he come in the series BEFORE his owner?
Look, there just isn't much to this guy other than being cute. He is a curious leftover from X-encounters with the Brood
. And he's only around as the pet of Kitty Pryde, who, as a member of Excalibur
at the time, finally put Lockheed in more appropriate surroundings, being based in England and literally fighting weird happenings.
As far as the art, sorry Jim Lee, but cute little dragon pets do not have pecs and abs.
tags
: