31 Jan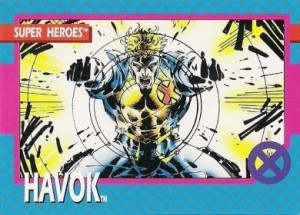 Subject: Havok
Real Name: Alex Summers
Height: 6′ Weight: 175 lbs.
Group Affiliation: X-Factor
First Appearance: Uncanny X-Men #54, March 1969
Energy Projection: 5/7
Mental Powers: 1/7
Strength: 1/7
Fighting Ability: 4/7
Intelligence: 4/7
Certainly Havok had never been as cool (and really, has never been since) as he was briefly in the early 90's as the leader of the revamped X-Factor, the straight man in a circus as written by Peter David. Of course, his being #3 on the list just makes you wonder how far down we had to go to run into his more famous and deserving brother…
…which is, of course, his sad and continuing fate as a character. As such, it's also surprising that at no point in his character bio on the card's back does it ever mention his relationship to Cyclops, and yet it actually mentions that his father is Corsair of the Starjammers! I'm not sure, but it's got to be a result of more editorial self-consciousness or editorial neglect. Both were rampant at the time, so I'm not surprised either way.
Jim Lee's art is pretty good here. While the overly symmetrical composition is almost jarring, he nicely portrays the intense energy that explodes out of Havok, whether controlled or otherwise. Unfortunately the portrait on side 2 disappoints, as though Lee had to put Alex in sunglasses in order to give him SOME personality.
The Power ratings are serviceable enough, though I don't recall his Fighting Ability and Intelligence to be worthy of a 4/7, just one notch (relatively) below his Energy Projection rating, and significantly higher than his puny rating of 1 for Strength. Also, for being the "dark horse" in the family, he's apparently twice as smart as his brother.
tags
: