30 Aug
(I've been using the term panorama for this piece, but I have a nagging feeling that's the wrong term… collage maybe?)
Here in its entirety, courtesy of Demon Geek, is the whole Danger Room Test Seqeuence composition that had been comprised of cards 91-99: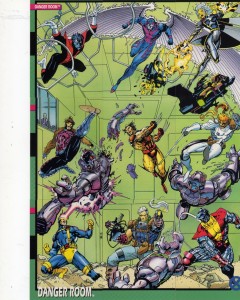 To read the capsule reviews of these cards, check out the previous 3 entries:
Looking at all 9 cards together actually looks much better, now that you can see how the various details spill over into each card, making them feel less like individual half-assed cards. For example I never noticed how Wolverine, Cyclops, and Gambit were all attacking the same robot (which Colossus may have thrown at them from the bottom right).
The top three cards are a little more disparate, with Nightcrawler and Archangel not doing much of anything at all. It would've been great if Nightcrawler had teleported into his current spot from a previous spot (between Wolverine and Cable, for example), and we saw the bamf explosion from where he disappeared; Meanwhile, Archangel could've been unleashing his feather blades, which would've nicely crossed over into several cards.
And finally, it's hard to not notice Storm being the only woman of the nine characters, since Lee seemed to relish drawing women. I wouldn't even necessarily count Storm as being the most popular female character at the time (Rogue, Jean Grey, and Psylocke could all be in the running), though she can definitely hold her own.
Trivia 1: there are 26 individual female character cards (counting Jean and Dark Phoenix as separate cards), compared to 50 male cards (counting the robots as anthropomorphically male, including Widget, but not counting the Brood), which means proportionally three of these nine cards should've been occupied by women.
Trivia 2: If someone were to ask you how many characters are in this composition, the correct answer is ten: Professor X can be seen in the window behind Gambit.

tags
: