2 Sep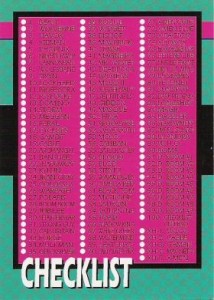 And now we get to the final standard card on the deck. It's supremely disappointing for this deck to not have the Power Ratings legend, which explained, for example, how many tons someone with 5/7 for Strength could press. These cards were fan favorites in the Series 2 Marvel trading cards, when Power Ratings first debuted. The system remains in use, with minor evolutionary changes, in databases like Marvel.com and the Marvel Wikia.
Instead we get the checklist, which, while not nearly as cool, was still a valuable asset for the obsessive collector.
Let's take this moment to just take a look at the series in general, specifically who made the list, who didn't, and what order.
One of the first things to notice is how integral this card series was to complement the X-Men universe relaunch, which at the time included Uncanny X-Men, X-Men, X-Factor, X-Force, Wolverine, and Excalibur. The cards try hard to include exclusives from each of the books, sometimes a little too hard. I'm hard on the Excalibur cards especially, since a few of them lean more on the non-mutant Claremont/Davis collaborations, but other cards don't age well at all within the mutant continuity, like Shiva from Wolverine #50.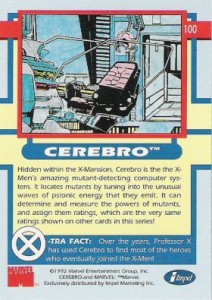 Overall there aren't obvious omissions on this list. Ones off the top of my head would be Ex-X-Man Sunfire, who had been redesigned by Whilce Portacio at around this time; New Mutant castoff Rictor (who appears in Boom Boom's card). Sebastian Shaw appears in the Hellfire Club card but doesn't get his own. Mysterious Aborigine mutant Gateway was also an integral supporting character in the late-80's early 90's X-Men stories.
I'd already said much about the ordering of the cards, especially earlier in the series. I admired Beast as the leadoff hitter versus the cliche'd Wolverine or Cyclops, but then they hold off on Scott until #17. Jean Grey doesn't appear until #24, preceded by Meggan, Kylun, and Lockheed, who manages to appear at #10, one spot ahead of Professor X! In fact four of the first 10 cards are Excalibur teammates, which just seems an odd choice.
Meanwhile there's much controversy with regards to the Power Ratings, many of which seemed arbitrary in assignment. Most notorious is the 1/7 Strength rating for Havok, overpowered by bruisers like Wolfsbane, Siryn, Shadowcat, Boom Boom, and Jubilee (not to be sexist). Professor X, the most powerful mutant mind in the world, doesn't rate 7/7 for Mental Powers (equal to Storm).
And there were the choices of Power criteria themselves. Whereas the original Marvel card criteria used Strength, Speed, Agility, Stamina, Durability, and Intelligence, the X-Men cards keep only Strength and Intelligence, adding Energy Projection, Mental Powers, and Fighting Ability, leaving characters like Quicksilver with near-flatline ratings. I'd previously advocated combining the Mental Powers and Energy Projection ratings in order to reinsert the Speed Rating.
What about you guys? What were your favorite entries? Which omissions annoy you the most?
tags
: