19 Aug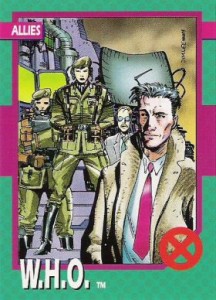 Subject: Weird Happenings Organization (W.H.O.)
Roster: Dr. Alistaire Stuart, Brigadier Alison Stuart
First Appearance: Excalibur #9, June 1989

We're near the end here, I feel bad stiffing you on entries, but once again I can't fake knowing more than very cursory things about the Weird Happenings Organization. They're allies of Excalibur, one's apparently a guy, one's a girl, um…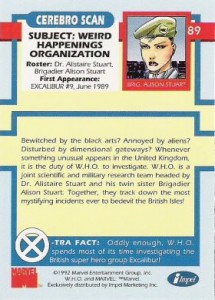 So once again, let's just transcribe the bio text:
Bewitched by the black arts? Annoyed by aliens? Disturbed by dimensional gateways? Whenever something unusual appears in the United Kingdom, it is the duty of W.H.O. to investigate. W.H.O. is a joint scientific and military research team headed by Dr. Alistaire Stuart and his twin sister Brigadier Alison Stuart. Together, they track down the most mystifying incidents ever to bedevil the British Isles!

X-Tra Fact: Oddly enough, W.H.O. spends most of its time investigating the British super hero group Excalibur!
So next time we can move past this Excalibur stuff, right? Oh wait, no? Dammit.
tags
: